when thousands of jellyfish washed ashore by the Arabian Sea stung visitors on Girgaum Chowpatty, a constable on duty worked tirelessly to keep people off the beach. When few heeded his warning, he went home and read up on the creature. The next day, he went to the beach with a bagful of lemons, bought with his own money, and administered lime juice on every sting injury as he had read it would provide relief.
This incident was probably a glimpse of the rare quality that led the same man, assistant SI Tukaram Omble, to pounce on a gun-toting terrorist in the wee hours of November 27, and pin him down bare-handed, in spite of five bullets lodged in his body.
Going beyond the defined call of duty
was characteristic of 54-year-old Omble, attached to DB Marg police station, whose heroic effort helped police nab one of the 26/11 attackers, Lashkar operative Mohammed Ajmal Amir Qasab, alive near Girgaum Chowpatty.
Omble never won a medal or showed outstanding bravery in his 34-year career, but his family and friends understand how and why he did it.
"Courage, honesty, dedication and commitment"
were not special virtues for Omble. They
were just an inseparable part of his sense of duty
. They just came as a natural response to situations," says ASI Ashok Phatak, Omble's friend and colleague for over 22 years.
These virtues, though not always on show, were visible in simple things that Omble did in his daily life. In a force that justifiably cribs about odd working hours and dearth of leave, Omble rarely took a day off, even if he was unwell.
His daughter Vaishali, a private tutor, still remembers the day when her terribly sick father insisted on joining duty for Ganesh Chaturthi as "it was important for him to be there". Continuous duty for several days had left him very stressed, and the night before that, he even suffered a mild stroke. Still, he started for work early, ignoring our pleas to stay home," says Vaishali.
It was this commitment to work that also made Omble a very punctual and methodical policeman. "He believed that if he reached on time, the policeman relieved by him would also be punctual. But if his reliever didn't turn up for some reason, he would stay back for extra duty and still manage to come on time the next day.
Though he had studied only up to Class IX,
he had a very thorough knowledge of law
. He was
meticulous and kept educating himself
," says constable Sanjay Chaudhary, Omble's colleague at DB Marg police station.
Adds Phatak, "Omble was
never reluctant to take up any duty assigned to him
. Never in his career did he try to lobby or persuade his seniors for posting in a 'good' department.
For him, all departments were the same, based on the same principles of policing."
Omble, born to a Satara farmer, was the youngest of three sons and a daughter. The unassuming boy who grew up to be a cop now has to his credit an extraordinary feat. The fact that it went unrecognised for many days after 26/11 has hurt his family and friends. But had Omble been alive, it probably wouldn't have made any difference to him.
Last year, while Omble was on duty at Lamington Road, he saw policemen from Nagpada police station chasing a thief. He set his pet dog after the thief and trapped the miscreant by entering the street from the opposite side.
He then handed over the thief to Nagpada police. No one mentioned his name to the seniors when the operation was over. And Omble never thought it necessary to take credit for it. "That's how he was.
He never worked for a reward
," says Phatak.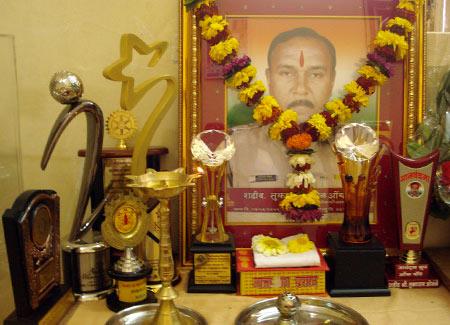 When alive, Tukaram Omble was the only man in a family of six that comprised his wife and four daughters, two of whom were married according to his wishes.

Today, there are three men in his family: His wife Tarabai and two daughters, Vaishali and Bharti. This is the biggest transformation the Omble family has seen almost a year after Tukaram Omble was felled by Kasab's bullets in the early hours of November 27, 2008.

"We have to think very carefully before taking any decision now; he is not around to hand-hold us anymore but we have to take decisions like he would have done had he been with us today," says Vaishali wistfully, sitting next to her father's picture.

The oil lamp next to his photograph has been burning ever since Omble died. "My mother replenishes the oil each time the flame starts dropping," says Vaishali of her mother. Vaishali is the one who interacts with the media as her mother is too shy to speak and her youngest sister Bharti is still to recover from the shock of her father's untimely death. While Vaishali completed her BEd from the SNDT College in Churchgate, south Mumbai, this year, Bharti works with the Mumbai Police in the clerical department, a job she was offered after her father's death. Vaishali is not looking out for any job, occupied as she is with tutoring students.

"I teach Marathi and English medium students from Class VII to Class X," she says. It not only helps supplement the family income but also helps keep her mind away from thinking about her father's death. "Bharti sometimes feels our father is still alive," says Vaishali. "She strongly believes that God will send our father back on earth as he has done good deeds and deserves to be a part of the family." 'We will then lock him up in one room and never let him go away,' Bharti tells her mother and Vaishali.

Her father's death has brought one more change to their lives -- the loss has shorn Vaishali's faith in God and the family has stopped celebrating festivals. 'If YOU exist, then how could YOU let a good man like my father die?' she often fights with God. "We have stopped celebrating festivals ever since he died. We don't feel like buying new clothes. When he was with us he would buy a new dress for us almost every month. We miss his presence so much," she adds.

While Omble's death is a fact of life for the three women, they have been overwhelmed by the public support after his death. "People have been pouring in since last year. Even during Diwali, they -- some known and some unknown faces -- came to meet us and brought gifts for us. They want us to feel at home; they don't want us to feel the absence of our father; but then that is not possible. However, we are really deeply touched by the affection showered on us," says Vaishali.

"We all are going to die one day. We all know that. How will such(fellow police officers who tried to take away the credit ) people face God when they come face to face with the Almighty after their death?" asks Vaishali.

Source: Mumbai Mirror(Lead given by Rochak Parekh)
.